As old as humanity itself, wine is among the favorite drinks of visitors to the Mercado Municipal do Rio de Janeiro, or simply CADEG. In full expansion, he conquers more and more admirers every day. Liking is already the first step, now, how about knowing a little more about this delight and knowing how to combine it harmoniously with the best recipes?
The best way to learn about wine is… by drinking wine, of course! Tasting a variety of good wines is essential. Between grapes, blends of varieties, regions, method and time of ripening there is a world of flavors and styles to be explored. Some variations have obvious differences and others are subtle in terms of flavor and personality. Enjoy the wine properly! It's not enough to just take a sip. Pay attention, see how it looks or behaves in the glass, observe the color, use the appropriate glass and smell identifying the aromas.
There is no wine that pleases everyone in the same way, as each person has their preferences. By knowing yours you can choose better! Wines have four basic components: flavor, tannins, alcohol and acidity. Which ones do you like the most? Do you prefer strong or sudden tannins? What is its acidity and alcohol content? Try wines with different types of foods, such as fruits, cheeses and meats. Study the grapes, viniculture, the history of wine, the regions. Look for specialized magazines. Visit numerous wineries, wine shops and tastings.
Look for places with an exquisite wine list and try unusual or rare wines paired with the food. Drink wine in all environments where you can enjoy alcoholic beverages: restaurants, picnics, bars, etc. Different wines suit different places and occasions; the sparkling wines for celebrations, the full-bodied ones for reading a book at night. Let your taste buds suggest something to you!
To make your best recipes even more memorable, we've prepared a basic pairing guide that will help you find the right wine for the occasion! Some basic rules must be taken into account in order to fully appreciate wine. Taste is very personal, and some concepts can – and should – be innovated, but with care so that they do not result in major disasters! Roses and sparkling wines accompany any dish of a meal. And if you are going to serve several wines, start with the lightest and weakest, and end with the strongest and fullest.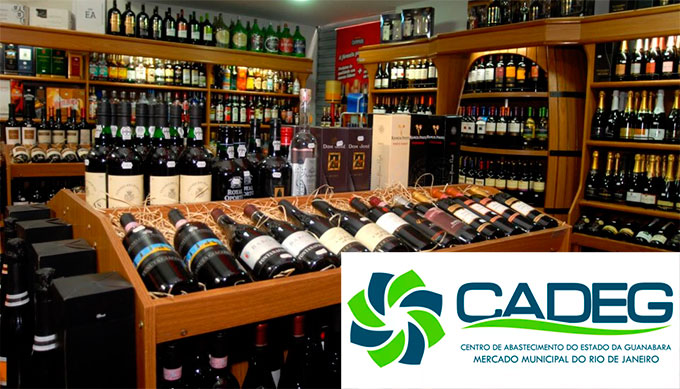 CADEG Wine Stores
CADEG's wine stores suddenly began to grow, demand for craft beers soared and along with them the demand for wines of different styles, flavors and content. To serve and satisfy this new customer demand, the Guanabara State Supply Center (CADEG) has gradually become a place where it is possible to find everything in terms of alcoholic beverages. There you will find wineries and stores with a varied stock of national and imported wines, all at a great price guaranteed! Access the complete list of CADEG Stores and Cellars here and see all the types of drinks they offer.
CADEG Beverages
The range of beverage options goes far beyond wines, CADEG has stores specializing in Champagnes and Craft Beers and of course there are hundreds of other drinks such as cachaças, spirits, sparkling wines, draft beer, cava, proseccos, whiskey, liqueur, vodka, tequila , rum and more.
Considered by some to be even older than wine, beer – special and artisanal – is currently experiencing a moment of glory in Brazil. There are many microbreweries emerging on the national scene, and even better, producing excellent beers, to the point of receiving several international awards. But before starting to talk about beer, it is interesting to define it so that there is no doubt about what it is: Beer is a carbonated alcoholic beverage, produced through the fermentation of materials with starch, mainly malted cereals such as barley and wheat. .
Its preparation includes water and some recipes also include hops and yeast, as well as other seasonings, such as fruits, herbs and other plants. Within this definition of beer there are several varieties. In order to find out which style you like the most, it is important to know and of course, drink! The pairing of beers is much less complicated than that of wines, there is no mystery, there is no freshness. For starters, it's not even necessary: ​​you can taste all kinds of beer with any dish. But even though it's not necessary, being able to harmonize the two results in a unique experience. Even for the least trained senses and palates, pairing beer is easy, thanks to the flavors that are quite evident.
This "marriage" can be done in two ways: By contrast – in the case of a fatty snack with a more bitter and more acidic beer, such as traditional Pilsen – and by similarity or similarity – when a meat with a predominant, strong flavor, such as the lamb one, is enjoyed with a beer with a high alcohol content and also an intense flavor, such as Red Ale. To be able to make these combinations, it is enough to understand some characteristics of the beers. The type of malt is what influences the intensity of the flavor, the amount of hops is what gives the beer its bitterness and the alcohol content.
Particularly, the alcohol content is a characteristic that must be taken into account, as balancing the alcohol content of the beer with the fat content of the food is a good way to achieve a perfect pairing. At the end of the day, pairing beers is an excellent opportunity to gather friends and taste various combinations. Beverage scholars, professionals in the field and experienced worshipers have tested some pairings and made suggestions in blogs and books.
Cesari Cadeg Winery
Adega Cesari is a casual restaurant that has an incredible wine list, where you can eat good Brazilian food and enjoy good wines from around the world! See more about Adega Cesari and other CADEG restaurants here.
Operating Hours
The opening hours of stores and restaurants vary, to check the opening hours of each one, visit the Stores and Restaurants pages (links above).