The CADEG market, in Benfica, is a living example of what we can call an intense movement of work. The market is a gigantic warehouse that sells fruits, vegetables, flowers and other plants. Traders start arriving at dawn, around two in the morning at the well-known CADEG Flower Market, located inside the huge Centro de Abastecimento do Estado da Guanabara ( CADEG ). An immense spectacle begins, with shipments and shipments of flowers of all kinds.
The prices are as low as possible, as they set up a gigantic fair to sell the merchandise to flower shop owners and other plant and arrangement dealers. A true charm, which leaves even those who say they don't pay much attention to flowers. Gradually, huge and extensive corridors of many plants and arrangements are formed.
CADEG Plants
If you like plants and intend to do something different from the usual, pay a visit to CADEG. But go relaxed and ready to watch a real show (of nature, even if inside a shed), we don't know if we admire the stark beauty of the flowers or the sense of humor and the will of these humble traders who are there, without fail, every night. and day, completing another day of hard work.
Maybe they don't even have time to notice the vivid colors and beautiful shapes of flowers and plants. They must hardly realize that they are responsible for much more than a trade, but, to the attentive eyes, for a beautiful set-up, an atypical and extraordinary presentation, and a lesson in enthusiasm and hardworking spirit.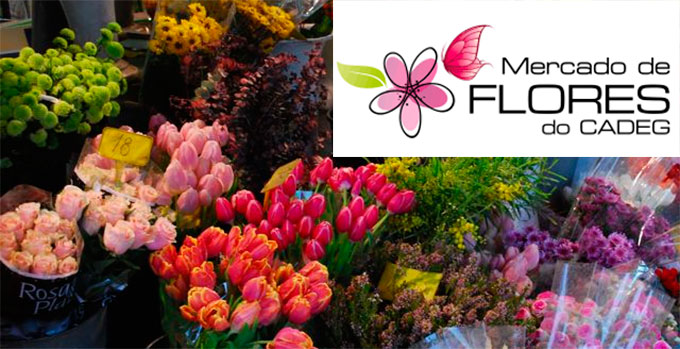 CADEG Plant Stores
CADEG is the largest flower and plant distribution center in Rio de Janeiro. There are dozens of stores selling a multitude of products at great prices. There you can find crafts, gift items, classes and craft supplies in general. Objects for decoration such as: glass, artificial and dehydrated flowers, coconut fiber, packaging and other various decoration accessories for floriculture.
There are also baskets, disposables, sachets and blister packs, breakfast kits, miniatures, wooden chests, straw baskets, wicker, trays and a multitude of products. Retail sale of natural plants and flowers. They do all the work with natural flowers: Arrangements, Bouquets, Bridal Bouquets, Decoration, Ornamentation, Wreaths, Parties and Events.
Sale of flowers and plants such as orchid, bromeliad, rose, chrysanthemum, daisy, gerbera, lily, anthurium, azalea, violet, fern, palm tree, ipe, grass, annatto seed, ornamental plants and much more! Trade in gardening machinery and tools are also found at CADEG.
Access the complete list of Flowers and Decoration at CADEG stores here.
DecorArt Flowers by CADEG
DecorArt is a complete store in terms of decoration. The product mix ranges from a wide variety of glass, candles, ceramics, trays, accessories to permanent flowers and all the accessories that a home needs to be well equipped and decorated. The store has always been concerned with working with the best products, opening space in its showroom for dozens of product categories.
At DecorArt the customer will find proposals for the whole house with quality and good taste. In addition to the quality of the pieces, the service is special and personalized. As today the trend is to mix several styles in one environment. In a house, for example, you can vary the decoration, with different and colorful glasses and accessories in different environments.
CADEG Flowers Prices
By working with wholesale prices, the CADEG Flower Market has very attractive offers. Depending on the season, prices can be even better: the bunch of 12 units of lily drops from R$ 30.00 to R$ 15.00. The roses, produced in Nova Friburgo, cost only R$ 10.00 each package with 60 units and can reach up to R$ 5.00 a bargain compared to the prices of florists. The flower market is very diverse and with excellent prices.
The place is divided into two spaces: the stores and the shed. In stores you will find more decoration items, cachepot, vases, glass, fertilizer, seeds, etc… of course there are also flowers, but usually in stores the price is higher. The shed is divided by boxes. As the competition there is great, haggle on price. You'll see that a dollar of savings on each flower can earn you several extra arrangements later. Research before you buy. Prices vary a lot. Buying in quantity with a supplier, you get more discount.
CADEG Flores Hours of Operation
Shed (annex) of the Flower Market: Monday to Saturday from 3 am to 12 pm. Sunday: closed.